There's no doubt that having the right lawn care tools makes routine lawn maintenance much easier.
The proper tools allow you to get the job done more quickly and with less effort.
But there is such a vast array of specialist tools on the market that it can be hard to know which ones you really need and which will prove to be an unnecessary expense.
If you have a small lawn, the tools listed below should be sufficient, however larger lawns can be hard work and you should seriously consider either hiring or buying some powered lawn care tools.
At a minimum you will need:
Lawn Mowing Tool
Lawn Edger
Spring-Tined Rake
Garden Fork
Manual Fertilizer Spreader
Lawn Watering Tool
In the following sections I've listed the all the routine lawn maintenance tasks, together with the tools you will need for each one, and tips on how best to use them.
Mowing the Lawn
Mowing is the most common and necessary work for your lawn & garden, to choose the right mowing tool is as important as mow the lawn properly. Let's take a look at below tips for using the tools.
Lawn Care Tools for Cutting and Trimming Grass
#1 Lawn Mowers
Lawn Mower Types
The most common lawn mower types are:
Manual-reel mowers
Electric mowers
Gas-powered mowers
Lawn tractors
Zero-turn-radius riders
Robotic mowers
Consider your mowing. Most mowers come ready to mulch, bag, or side-discharge clippings. But mulching or bagging with a riding machine usually requires a kit that costs $50 to $500.
Check features and controls. Most tractors and riders let you speed up or slow down with a convenient pedal instead of a lever. Among self-propelled mowers, several models let you vary speed simply by pushing the handlebar, while some let you adjust the ground speed without removing your hands from the handlebar.
Think twice about zero-turn riders on hilly properties. Rear-steering wheels give zero-turn-radius riders their tight turns but make them more difficult to control on steep slopes. Exceptions include mowers that have steerable front wheels and steering wheels instead of the usual levers—though a relatively high repair rate in our brand-repair surveys has kept some such models off our list of top picks.
A gas or electric push mower is fine for a small lawn. But you'll probably prefer a self-propelled gas model for slopes and a lawn tractor for a lawn one-half acre or larger. An old-fashioned manual reel mower is the greenest choice for small areas.
If your lawn is greater than a half-acre (a lot approximately 220 feet by 100 feet) you should consider a riding mower. If your lot is smaller but you really like to ride, you're still allowed to buy a riding mower; just be prepared for eye-rolling looks from your neighbors. But otherwise consider a walking mower. You can choose between a motor-powered or man-powered lawn mower; gas or electric; battery or corded, self-propelled or push, and more.
#2 String Trimmer
String trimmers are very useful to trim your lawn. Cut down unruly grass and weeds in and around gardens, trees, fences or other obstacles; or clear overgrown brush that's too much for a mower to handle.
String trimmers come in a few styles: electric trimmers, gas-powered trimmers, and brush cutters. Which you choose will depend on the area(s) you have to trim.
String trimmers are also very useful for clearing areas of overgrown grass and soft stemmed weeds.
Tip: Choose a model with an adjustable head that can be tilted vertically so that you can also use it to neaten lawn edges.
Read more about 7 Tips to buy Weed Eater  and  How to find the best string trimmer? 
Edging lawn tools
Creating a fresh garden edge is always very welcome by garden owners. The lawn edge needs re-cutting every spring. Don't fall into the trap of thinking that you can will away with using an ordinary garden spade – you won't because the curved blade will not produce a straight edge, but luckily we have below edging tools, which are very helpful.
#1 Half Moon Edger
A half-moon lawn edger always have a reasonable price and it is worth paying a little more to get a good quality one as the blade will stay sharp and the blade and handle are less likely to Part Company!
For straight edges mark the line with a length of string pulled tight between two pegs. Place a straight plank of wood as a guide along the string and stand on it as you cut along it using a rocking motion. Curves can be judged by eye (stand back every so often to check the overall effect) or marked by trickling sand alongside a length of rope or a garden hose.
#2 Powered Lawn Edger
For very large lawns you might prefer to hire a powered lawn edger which will get the job done quickly and with the minimum of effort.
Select a power lawn edger that will best handle the type of work you'll be doing.
Electric-powered edgers are easy to start and don't require as much maintenance as gas-powered models. Cordless edgers offer easy mobility for smaller jobs. Corded edgers offer unlimited run time and require a suitable extension cord. Follow the edger manufacturer's instructions for selecting compatible extension cords. See Power Cord Safety Tips.
Gas-powered edgers provide power for large jobs and prolonged use. Models with 2-cycle engines run on a gasoline / oil mixture. Edgers with 4-cycle engines are usually larger and have more power. They don't require you to mix gasoline and oil. Gasoline lawn edgers crank with a pull-start. Some models have a built-in electric starter, while others can crank with the use of an optional, powered starting device that you purchase separately.
Power lawn edgers cut using either a blade, a cutting wheel or, in the case of a string trimmer / edger device, a monofilament line.
Lawn Care Tools for Scarifying
Lawn scarification is an essential lawn maintenance task. Failure to annually scarify your lawn could result in weak grass growth and the spread of disease and pests across your lawn. Here we have some tools for scarifying.
#1 Spring-Tined Rake
The Spring Tine Rake is an integral part of proper synthetic turf maintenance. The Rake is designed to work with the Sports Turf Groomer as a "system", which relieves compaction and results in improved turf conditioning, playability, and safety. Scarifying, to remove the dead thatch, can be done quite effectively using a spring-tined rake (which you will need in any case for raking up leaves and debris) but it is hard work as you need to push the tines (prongs) right down into the turf before drawing it towards you.
#2 Scarifying Rake
The scarifying rake is ideal for removing old grass and debris from your lawn and the long handle makes is easy to do so. You can also buy special scarifying rakes which have flat, sharp tines to cut into the thatch and the uppermost layer of turf but these are equally tiring to use.
Tip: To do a thorough job you need to scarify the whole lawn in two directions, the second time at right angles to your original direction.
#3 Electric Lawn Rake
To make life easier, powered lawn rakes are now available and are well worth considering for a large lawn. Electric lawn rakers have a plastic cylinder lined with sprung metal tines. These comb the lawn vigorously, teasing out moss, thatch and horizontal grass stalks. At the lowest setting they'll get right down to soil level. They are also useful, on a high setting, to rake up and collect autumn leaves from your lawn.
For a perfect lawn, you should rake it every couple of months during the growing season. If you aren't sure, and your lawn is not too large, it's worth scarifying manually the first time to see how hard it is before making a purchase – don't forget that you only really need to do it annually in the autumn or fall.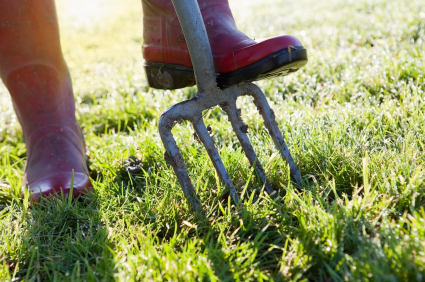 Lawn Care Tools for Aerating
#1 Garden Fork
Soil compaction can be relieved by pushing the solid tines of a fork into the lawn down to a depth of about 3 inches (8 cm) and wiggling the fork slightly to widen the holes before continuing this process every 4 inches (10 cm).
You can aerate a small lawn simply by spiking with an ordinary garden fork. Push the fork into the lawn every 10cm (4in) or so and rock it backwards and forwards to open up the holes you have made. Continue until you have aerated the whole lawn.
#2 Powered Lawn Aerator
Lawn aeration can be an incredibly beneficial service for your lawn, when done with the proper lawn aeration equipment at the right times of the year and under the right environmental conditions. Also known as core aeration, this process opens the soil so that nutrients, water and air have easier access to grass roots, which helps thicken and restore the vitality of your lawn.
For large lawns do not even contemplate aerating by hand – hire or buy a powered aerator. Brush the cores off the lawn after you've finished and don't forget to apply the top dressing to maintain the benefits.
Lawn aeration can be performed with a "spiker" pulled behind a tractor (usually a lawn tractor) or with a self-propelled, gasoline-powered lawn aerator unit equipped with hollow tines that punches holes in the lawn and extracts plugs of turf grass thatch and soil. Ideally, these plugs (cores) should be about 1/2 to 3/4 of an inch in diameter, 2 to 3 inches in length, and pulled every 6 inches on average.
Lawn Care Tools for Applying Fertilizers, Weed Killers and Grass Seed
It is very important to apply lawn fertilizers evenly. This will prevent a patchy appearance or, even worse, scorched bare patches.
Similarly weed killers and grass seed give the best results if applied evenly at the recommended rate.
#1 Manual Fertilizer Spreader
A fertilizer spreader is a good investment as it is the best way to apply granular lawn feeds, weed killers, and grass seed. The most common type consists of a wheeled hopper that is pushed along. The application rate is adjustable and they are simply pushed up and down the lawn in regular lines taking care that the lines do not overlap to avoid areas of over application.
For the most even results set the application rate to half the recommended rate and make two passes across the lawn; the second at right angles to the first.
#2 Broadcast Spreader
If you have a large lawn a broadcast spreader will be more efficient as this will cover the larger area with fewer passes. Set the application rate to half and make adjacent runs at half the spread distance of the machine.
Choose a model that allows the flow to be switched off completely whilst you turn at the edges of the lawn to avoid over application.
Lawn Care Tools for Applying Top Dressing
Topdressing a lawn is the process of adding a thin layer of material over the lawn. Typically 1/4 inch – 1/2 inch of compost or other soil amendment is spread across the lawn with shovels, in a throwing action. The material can be worked into the thatch area by raking, washed in with rain or sprinklers, or allowed to settle on its own. Topdressing materials vary greatly and are usually dictated by budget and need. Most topdressing is performed with compost which can vary in quality and get expensive.
#1 Compost
Compost should be made from the appropriate ratios or wet and dry materials and should be fully "cooked". High quality finished compost should be dark and rich and made with a variety of organic material with few types of filler like sawdust or loam. In some cases, compost is blended with soil or sand to make it more affordable, just be sure the added soil is compatible with the soil of the lawn.
#2 Sand
Sand is sometimes used as a topdressing material on lawns with heavy, clay soils or drainage problems. Usually applied after aerating, the sand fills in the holes and over time can alter the structure of the soil to allow for better drainage and a healthier grass.
Inspect the top dressing for debris, such as large rocks or weeds. Avoid chemically tainted agricultural soil that can kill turf. Compost is not recommended, as it may "smother" the roots. An organic soil, such as "Black Dirt" or dry sand will prevent water from penetrating too deeply and drowning the grass.
Lawn Care Tools for Sweeping Leaves
#1 Besom or Spring-Tined Rake
The best tool for sweeping leaves is a traditional besom (or witch's broom) but a spring-tined rake will also do the job. Spring tine rake is made from springy wire, the prongs of a spring-tine rake penetrate the top of the lawn and comb out any debris. This tool is excellent for sorting out dead leaves and twigs. But you could also use a spring-tine rake to clear smaller areas of moss and thatch. On some models you can adjust the span width to rake a wide expanse of lawn or more precisely clear up leaves from a narrow space.
#2 Powered Leaf Sweepers, Vacuums and Blowers
Power sweepers can either be gas or electric-powered and make light work of cleaning up large areas. They are also referred to as lawn or leaf vacuums and often have added features such as a chipper/shredder device that reduces the volume of the debris so it is easier to dispose.
Power sweepers are definitely recommended for large yards or excessively steep yards where using a push sweeper would be arduous. The self-propelled models are also helpful for people with back problems who are unable to push an un-motorized sweeper.
For a large garden invest in a leaf sweeper which sweeps up and collects the leaves in one operation. The very largest gardens may require either a powered vacuum or leaf blower.
Lawn Watering Tools or Systems
Proper outdoor watering is important when maintaining a lush green lawn and garden. Watering and fertilizing can help keep your lawn looking healthy.
#1 Watering Can
A watering can (or watering pot) is a portable container, usually with a handle and a spout, used to water plants by hand.
#2 Sprinkler System Tools
A properly installed and maintained underground sprinkler system conserves water by directing it exactly where and when it's needed. Watering your lawn efficiently either with manually-controlled sprinklers or built-in irrigation systems.
In conclusion, above Lawn Care Tools & Equipment are necessary for garden owners or landscapers. Taking care of your lawn and garden requires the right equipment and know-how in order to get the results you are looking for. Hope this article is useful for you. Welcome to share it to your friends or family members.